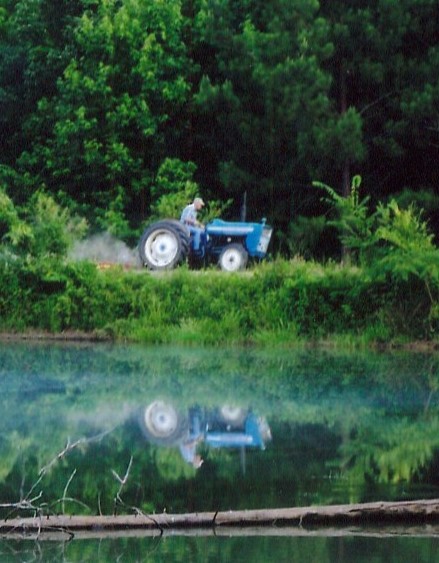 One of my favorite images of my dad hangs in my office. It is a photograph on canvas taken by my brother's long-time girlfriend. Daddy is driving his blue, 1970's Ford tractor, bush hogging at our little place in Carroll County, which is hill country. He is leaning forward, hat pulled down low, his arms are brown from the summer sun, and he is wearing work gloves. There is a cloud of dust and eternal joy.
We call our place "the Cabin." It sits on a pond built by the core of engineers to avoid flooding in the Delta. There are lots of them in the hills. My cousin told me my grandfather drowned in a section of the pond where the water is less than two feet deep. I certainly have no evidence the event was related to alcohol, but I am indeed suspicious. I imagine he was drinking moonshine, telling Big Mamma it was iced tea, fishing with crickets for bream. Either the elixir or a medical condition made him fall face first in the shallow water. Like most things, it was probably both. Regardless as to whether my version of the story is true, the place holds spiritual reverence to my family. Holy ground. As the years have gone by and Daddy is riding his tractor in heaven, our little house has fallen into disrepair. I feel guilty I am neglectful of the thing he so treasured.
Lots of people have spiritual connections to farms and land —not that our cabin is, by any definition, a farm, although we did consider a conservation project involving flowers for butterflies. I can attest to this because I married a farmer's daughter. The land they farm comes from her mother's side. To add to the mystical and historic devotion to the dark chocolate colored dirt, their place is littered with Native American artifacts, like arrowheads and pottery pieces. I have some of those on the wall in my office too.
I recently attended the funeral of my long-time accountant, David. He lost a thirteen-year fight to prostate cancer when it metastasized into his bones and the lining of his brain. He died on May 31st. I have an email from him about my taxes on April 14th. I learned at his funeral he discovered his condition was terminal about two months before he died, which means he had received the prognosis before he sent me that email. He never told me he had gotten sicker. Never made any excuses. I guess he just did not want to draw attention to himself or impact my relationship with his firm. He simply said in response to my office's inquiry about our unimportant tax responsibility:
"I will be wrapping them up today. I'll email you when I have them complete."
He did finish his work on my taxes and in his life, and we filed our somewhat complicated returns on time, as usual. I wish I could have said goodbye and, more importantly, thank you.
At his request, in the few days before we lost him, David was taken to his family farm. Experimental treatment had stolen his vision. He died on a Wednesday surrounded by his family. Upon reflection, it is as if God gave him the strength to finish one last tax season, because David loved to help people like me. As a person who also spends lots of time at a desk helping others with their problems, his death has affected me more than I expected. While David's passing was not sudden to his family, the news of his demise was sudden to me, and the transcendence of the death of someone I relied upon inspired me to put down these thoughts for you. At his funeral a slideshow displayed images of his life with his beloved family. He had a mustache in college, and he loved to hike. He was an avid boy scout for most of his 62 years on earth.
Man, I hate cancer.
The disease took my sister's life too.  She was young like David.  Dianne had the type that gets in your blood, and when her early treatment stripped her immune system away, a fungal infection cut her precious life short.  It was horrific.  My parents had buried not one, not two, but three children during their lifetime.  While I flew to Oklahoma to see her in the hospital, I never got to say a proper goodbye to her either, and I miss her.  She loved Daddy's cabin too.  My favorite picture of Dianne is a closeup.  She is wearing glasses, pink lipstick and a slight smile. Her hands are folded like she is praying, and she is seated at a table in New Orleans at Café du Monde.
My friend Stanton beat it. Stanton is sort of like the Mayor of Everywhere —a gregarious salesman. He married a farmer's daughter too. Stanton knows everyone and everyone knows and loves Stanton. He is almost objectionably positive. I have even heard him say cancer is one of the best things that ever happened to him, because now he values life more. He cherishes being present –the moment. After he received the "all clear" from his doctor and was experiencing remission for the first time, a group of us went white water rafting in Tennessee. Back then, in an area the guides know is safe, they would let an especially brave river passengers sit on the front of the raft headed into a significant rapid, feet tucked under, hands holding the small rope at the tip of the raft, like a bull rider in a rodeo. In the picture that hangs on his office wall, Stanton has his right hand pointing to the sky –his facial expression is of exhilaration and of a man joyously alive. Like a warrior who had conquered his adversary, surrounded by his fellow soldiers, paddles like swords in the air.
F**k yes!
Life is suffering. It requires constant work. There is divorce and disease and death and taxes, and there are warriors like my Daddy, Dianne, David and Stanton. Some lose their fight quickly. Some battle and win. Some engage in warfare for years only to eventually succumb. But without exception, we are spiritual beings having a human experience. This world is temporary, and this moment is fleeting. Take time to ride the bull, because death teaches us to live.
Craig Robertson is the founder of Robertson + Easterling. For over 24 years, he has practiced exclusively high net worth divorce and complicated family law in Mississippi. You will want him in your corner because he knows the things you care about deeply are at stake, and he will counsel you about wholistic modalities to foster health and wellbeing. He hates cancer and loves a good farm.