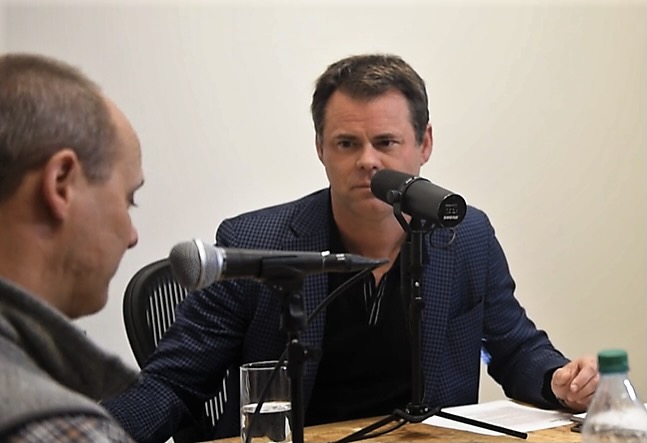 The first show in Season 5 of the Robertson and Easterling Podcast drops on January 19, 2023 with one of our most compelling episodes to date about a personal journey through alcohol addiction, its impact on family and hope through recovery.
In this post, we are featuring some of our most popular episodes to-date to enjoy over the holidays. Thanks for listening to our show! Please sit back, relax, take a deep breath, everything is going to be okay. You found us, and what you are about to hear is going to help.
10. Kristen Jones: 3 Suitcases
Dr. Kristen Jones of Cornerstone Counseling vulnerably tells her story of growing up with an unhealthy mom in the wake of her parents' divorce. Every night, she would have an 8:30 call with her dad, who was emotionally present notwithstanding their geographic distance. During Christmas of her senior year in high school, she packed 3 suitcases and went to live with her dad, who was walking through the breakdown of his second marriage. The two started over together.
9. Tara Mills: Unpacking the Box and How Adults Mess Up More than Kids
Tara Mills, LPC sits down with Craig and Matt to talk about parenting through the process of divorce and the value of the therapeutic process, especially in children. This highly sought after therapist discusses active listening, trauma, parental alienation, conflict resolution and strategies for consistent co-parenting throughout the various developmental stages of childhood.
8. Mark and Ellen: The Unusually, Beautiful Crazy Journey of Redemption
Craig and special co-host Roane Hunter of LifeWorks Counseling have a conversation with married couple Mark and Ellen, who vulnerably share their journey through addiction and codependency on the road to eventual marital restoration. Mark and Ellen tell our listeners that wise counsel not only saved their marriage, it probably saved their lives.
7. The Dirty Details with Robert Saums
Security Support Services are experts on getting people who cheat busted. They have been working behind the scenes for over 30 years to provide the truth to clients whose spouses are less than honest. Robert Saums, VP of the company, dishes with Craig and Matt about the complexities of the professional investigation business as well as what it takes to catch cheaters in their extracurricular activities.
6. Roane and Roe Hunter: Something Was Wrong and Now Things Are Confusing
As a parent, how does one model the "right" behavior for their children when things are personally unbearable? Roane and Roe Hunter share their family story with Jamie Walley and Craig Robertson. As a father struggling with the intense pressures of providing for his family while also juggling porn/sex addiction, Roane found himself in a deep, dark hole he couldn't escape. This Father/Son duo walk through their journey from depression, anger, attempted suicide and shame to forgiveness and ultimately seeing God's love in all things, partnering together to bring healing to other fathers and sons.
5. Camille's Story: The Pursuit of the Truth
Camille Eiland, LPC of LifeWorks Counseling bravely tells her personal story of divorce due to sexual betrayal which culminated in a full blown trial. In the crazymaking process that is divorce, counselors need counsel too. Now finally finished with the legalities of the breakup, Camille reflects on how knowing what it is like "to sit on the other side of the chair" has grown her ability to empathize with her clients and promote health, healing, and belonging.
4. Matt's Story: The Road Home
In this conversation about marital restoration, Craig and Matt talk to a former client, who came to see them after the discovery of his infidelity. The guest talks introspectively about his childhood, his failings as a husband and father, and his road home. Now two years post discovery, his marriage is stronger than ever, and the three men reflect on the advice given in the initial consultation and how it was a catalyst for him to seek help at a treatment center for sexual brokenness.
3. Don't Talk, Don't Trust, and Don't Fee with Jason Smith
What does a pastor do when he is not okay? Jason Smith was burned out after covering pain with performance for decades. His coping mechanism was service, describing his relationships with the people he served as codependent. When the limitations of the global pandemic created isolation, he was unable to receive energy and purpose from others, so his unconscious facade fractured, making him feel trapped. Thinking like no area of his life was good, he felt hopeless.
2. Ben Derrick: Heart Not Habits – What the Bible Says About Divorce
Matt, Craig and Roane have a conversation with Ben Derrick, Pastor of Vertical Church, and discuss what the Bible says about divorce and how our culture affects our interpretation of it. Oftentimes there is a huge difference between reality versus ideology, so it's important to seek wise counsel in handling the complexities surrounding such a momentous life decision. Listen in as they challenge the normal divorce debate of what is considered "Biblical" and "permissible".
1. Roane and Eva Hunter: Time, Tears and Talking
In the first of this two part series, the hosts talk to Roane and Eva Hunter, Certified Sex Addiction Therapists and the founders of LifeWorks Counseling. Roane and Eva will keep you on the edge of your seat as they talk about the discovery of Roane's sexual addiction, their divorce, healing and eventual remarriage. Today, Roane and Eva help other couples on the road to recovery, restoration and wholeness. Part 2
We are now in our 5th season of production of The Robertson and Easterling Podcast, with over 10,000 downloads. We think if you take the time to listen, you will have a better understanding of the journey upon which you are about to embark.The cool thing about the podcast is the platform it creates for you to privately engage with the stories of other brave people that not only went before you, but were also willing to talk about it. In addition, this is the opportunity to become free and take control of your life and the transformation you are seeking. In this groundbreaking, Mississippi focused podcast, you will hear deep discussions about marriage, parenting, divorce and post-divorce recovery from former clients, mental health professionals and others who work in and around the legal system or who have special knowledge they are willing to offer. We have also published shows with people who have overcome hard circumstances to stay together.