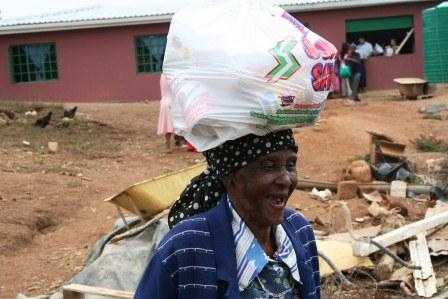 Today will be our heaviest day. We are going to the heart of Sweetwaters to visit the Hope Center where kids from the community live that cannot go home. They also distribute food on Fridays. We have a window in the otherwise terrible weather to get in. Narrow dirt roads and the hilly terrain make travel difficult. Before we go, we head to Tabitha to participate in the daily worship. Everyone attends. The children carry plastic chairs on their heads and line them out for us. The singing is transcendent. Hands are raised in the air and the smiles are big. The workers are angelic. Their worn shoes hardly touch the ground as they clap and sway. The children join the celebration.
My new friend George has expressed interest to Jason in making an extended visit, but he is not sure what he could do to help. George is twice divorced and lives alone. During a break in the singing, George is encouraged by Jan that the children have cherished his fatherly influence. Jan does not know that George wants to come back, and this was not a part of the scheduled program. It was prophetic and Spirit inspired. An elder man investing in the lives of kids in the African culture is rare. God is stirring something. I would not be surprised if George ends up living in South Africa to be a father figure for these fatherless children. What a great story.
All nine of us pile into Tabitha's newly cleaned truck and head for the community. We dodge cows and people as we make our way to the center. The valley smells wet, like red earth mixed with death. We pass women carrying children tied to their backs with blankets. Makeshift convenience stores look more like childhood lemonade stands, only less colorful and more serious.
When we arrive, we are introduced to Zanele. She lives at the Hope Center and runs the operation. Her spirit is infectious. She acts bullet proof. We are given a tour of the center. There is a window that is accessible to the community where women who cannot care for their children can leave them. The child is rested on a pink Care Bears blanket and a bell rings. It is called a Moses drop. I have conflicted feelings when I looked at it. I imagine what is going through the minds of the mothers who place their children through that window? What a selfless act. The children live across the compound in what looks like a shack. Mud from the rain has splashed against the aqua blue exterior walls. The building is connected to a partially completed room made of mud. Laundry is drying on a small tree outside. Other clothes are being washed in an old bathtub filled with rainwater. Water is collected from the roofs of the building in large green drums. There are true, free range chickens running everywhere. Free range means that the chickens eat what they find, not corn. I always thought it meant that they were not in cages. The roosters are skinny and scary, like they could kick some serious ass in a cock fight. Trash is scattered about the grounds. There is a skinny dog tied to his house which is made of mud bricks and a stick framed metal roof. He looks hungry. I am not going to get within ten feet of that animal. I look down and realize that I have been walking over two graves in the middle of the compound. I feel sick inside, like the feeling you get when you have too much caffeine.
I have to duck my head to get through the front door where the children sleep. A woman is sweeping, so we take off our shoes. The interior is clean and there are bunk beds with a stuffed animal on each pillow. A partially burned candle sits next to a Bible written in Zulu and a broken mirror. There is electricity, but it is primitive. Clothes are piled in the corner of the room and the halls are narrow and dark.
We pile back into Tabitha's truck and Zanele joins us. There goes the car wash. Zanele leads a team of women who care for the sick and the child headed households. She is going to take us to some of the homes under her care. Zanele has a cell phone that constantly rings. Many in the community saw the Tabitha truck this morning and are calling her Blackberry to express their needs. She speaks in Zulu, of course. We wind up and down the narrow roads of Sweetwaters. When we stop at the first home, I notice a barefooted little boy wearing blue jeans and a red and gray striped shirt. He looks at us with curiosity. The rain water at this home is collected in a barrel with no top. The home is constructed of red brick made of mud. Clothes are being dried on the fence. We pray for the young women inside who is under several heavy blankets, although it is hot. She is in her twenties and dying of AIDS. Her lips are dry and her hair is tangled. Her eyes are yellow. I swallow hard and am glad when we say our goodbye.
The next home is worse and harder to access. We travel over a stream where you can see human waste. This home is composed of several buildings. There are caged puppies outside, but no garden like we have seen along the way. Another young girl is dying inside. I wonder about the moment she was infected. She has a jug of dirty water, pain killers, suppositories and cheap liquor next to her bed. Her caregiver is also HIV positive, but the ARVs are working and she can walk. They are glad we have come. The sadness is thick, but bright pink African flowers with narrow petals grow wildly and decorate patches of this dreadful place. Zanele engages in a serious conversation and we are led out of the home after Don prays for her comfort.
We are turned away at the third home. The patient is dead. The body is inside. A woman holds a todler and her voice is melodic as she speaks with Zanele. The relief is palpable. They laugh with each other. The young woman, also called Zanele, died at 5:00 a.m. Her mother, who is left to care for the little boy dressed in all blue, yells for her neighbor in a happy tone as we leave the property. There is laughter after death.
The doorway to the last home is decorated by five sets of goat horns nailed to the white walls made of a stucco-like material. An evil oozes from the door that would be yellow if it had a color. The patient inside, age sixty-seven, sat in a wheelchair and wore a red sweater and a black hat. She spoke slowly as she fought the pain of the HIV and cancer killing her. The walls in her home do not go all the way to the ceiling. There is a bush hanging upside down from a string in the corner. She has dried skins tied around her wrist forming a bracelet, another sign of ancestral worship which is as much of a pandemic as the HIV in this place. Zanele exercises her skinny legs before praying for her in Zulu. The woman cries out during the prayer and I put my hand on her shoulder, which feels like I am touching bone draped in cheap fabric. A rush of adrenaline washes over me. I feel like a soldier.
By the time we make it back to the Hope Center, people are already lined up at the gate. We have a room full of boxes to pack. The work feels more urgent than it did earlier in the week. The ladies who work with Zanele were glad to have our help. It seems so inefficient to move the parcels from the boxes to the bags, but I did not question, I just put my head down to accomplish the task at hand. By the time we finished, there is a room full of bags. The distribution starts immediately. People are coming from everywhere. Each person is asked to sign a sheet of paper before they receive their parcel. Many cannot write their name and sign with an "x." There is an inordinate amount of left handed people, I notice. There are many overweight women, not from overeating, but because of their diet of carbohydrates and sugar. Somehow they were able to balance these heavy bags on their heads with little effort. It was impressive. While most of the parcels were given to women, there were some men. Many of the girls were young. Some were pregnant. I catch the eye of a girl who couldn't have been more than fourteen who held the baby growing inside of her tummy. She turned her eyes down when she realized I was looking at her. About this time the children who live at the Hope Center came home. They were a welcome distraction from the droves of people lined up to receive the food. Apparently someone at school had a tube of lip gloss, because many of the girls had shinny red lips. They smiled and blushed when we talked to them. One little girl had an eye that looked dead. I am told birth defects are common in Sweetwaters. When we finished distributing the food, the line was a long as when we had started. A man in a yellow sweater with a black had looked at me as the line was finally breaking up at the news we were out of food and said in perfect English, "I'm hungry."
I put my head down.
*****
We ate breakfast, loaded our suitcases and headed to Tabitha to say goodbye. When we arrived, Issy was busy getting the participants ready for a rare Saturday gymnastics performance. Life was moving forward without us. I presented the boys with the cricket equipment, which made me feel warm inside, and they divided the two sets between the older and younger kids as I had hoped. The children wanted to be held and tickled and loved, as usual. One boy who road in the car with me to the movie demanded that I stay, but seemed to expect I would leave and he would never see me again. This particular child is HIV positive, but he is taking his ARVs. Even if I make it back to Tabitha one day, he may or may not be there. Living in an orphanage and taking ARVs is taxing on the mind and body.
Leaving Tabitha, we drove toward the Durbin airport with the intention of stopping off to see the Indian Ocean. From the road in the hills at the first glance of the sea, you notice large ships floating off the coast. It has an ancient feeling. The ocean is pale blue with hints of green. The waves violently crash against the shore line made up of rocky boulders that are covered in patches of slippery green algae and exotic barnacles. A black man is posing for pictures in his red, jockey underwear. The sand feels like it is made up of tiny gravel, not nearly as fine as the white beaches of home. I roll up the pants legs of my jeans and take off my shoes to walk through the sand. I put them on again as I start my decent to a high rock. Crabs scatter. When I reached my destination, a slight sense of fear mixed with awe and peace wash over me. Waives threaten to knock me off my perch. I sat and thought about my wife and daughters and how much I wish we could share the moment. I thought about the stars on the foreheads of the orphans, the children of the crèche mixing piles of snacks to share and the beautiful young girl in red at the distribution center in Sweetwaters holding the baby growing in her tummy as she shamefully turned her eyes down. I thought about the amazing sacrifice of the workers from Tabitha and iThemba. I looked at the bracelet made by Mollie Ann on my left wrist. The wooden letters that spell "dad" are beginning to fade. I breathed deeply and thanked God for my life and whatever is next.
By: Craig Robertson