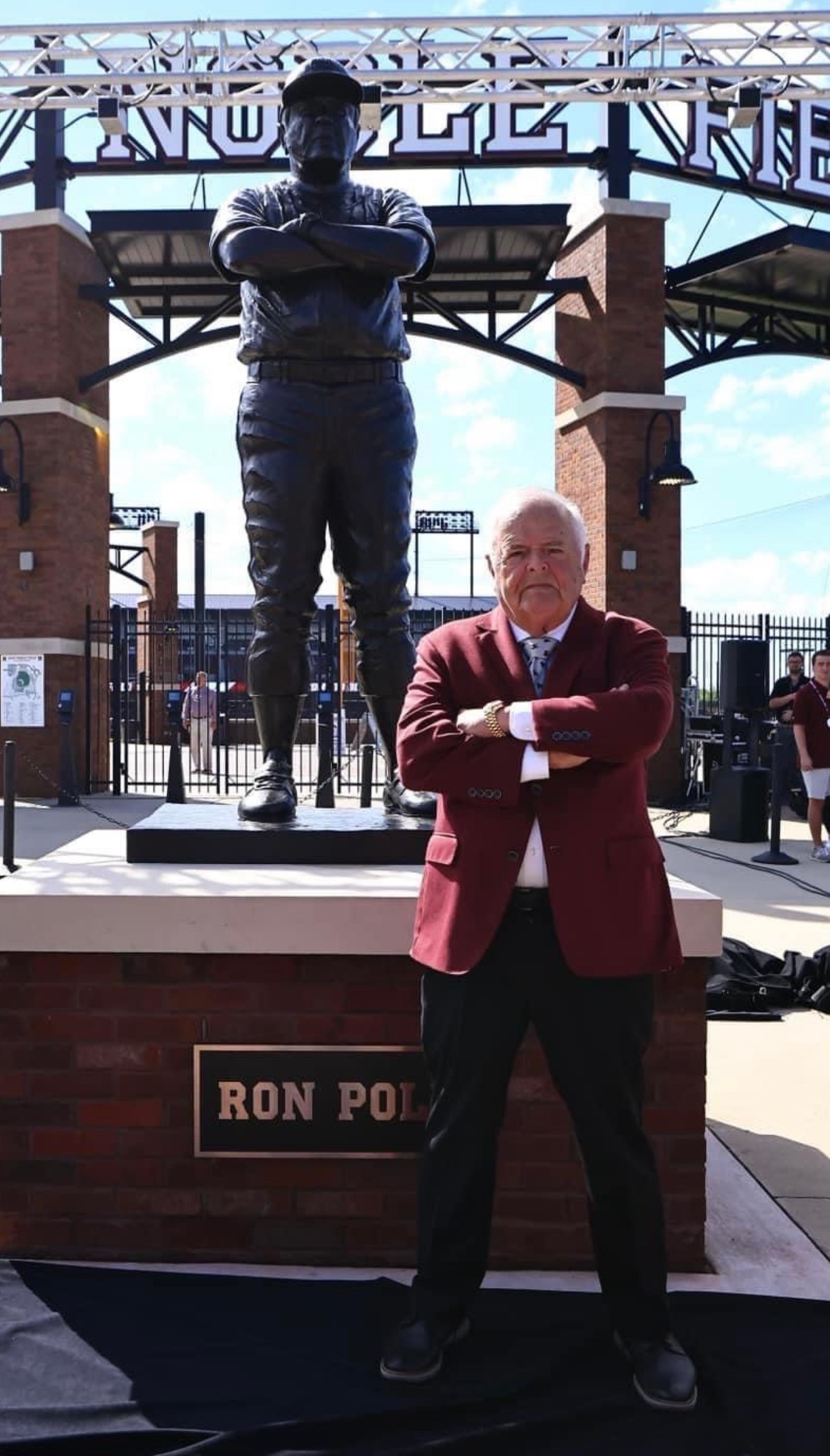 Dad liked State. He was from the hills outside Greenwood, maybe an hour from Starkville. He helped put the original set of lights on Dudy Noble before Coach arrived in 1976. I had an artist paint the scene from a picture of him with his crew in front of the stadium. Daddy must have been the foreman, because he was wearing white shoes, standing with his men around a Fountain Electric pickup truck. I guess his experience is one of the reasons our family became Mississippi State fans, although neither of my parents went to school in Starkville. In fact, they did not go to college at all. Daddy was an IBEW electrician and Momma worked retail at the mall. She had discontinued her education in high school and was married at the age of 17. Daddy went into the Navy and served in Korea before becoming an electrician's apprentice. He was a leader of men, although he was not a military officer, and he did not own a business.
We did not have money to go to the games in Starkville, but I can remember helping Daddy and other members of his service club work the concession stand at Memorial Stadium in Jackson for the annual Ole Miss versus State game. As I got older and drove myself around in my '79 Ford Mustang, I liked to listen to Jim Ellis on the radio calling baseball games, especially in the days of Clark, Palmeiro and others. I wrote about this not long ago.
As a child, I spent my springs and summers at the ballpark. I wanted to be a baseball player like my brother Keith. He was a pretty good shortstop, playing some junior college ball near home, until he hurt his shoulder. Sometimes timing and luck will dictate the career of an athlete. When I got to high school, my friends were my teammates. When Keith hung up his cleats after a detour or two, he went to State. One time, a group of my friends went for a visit. I can remember one of the guys putting Skittles candy in a drink made with vodka. We called him "Skittles" for years thereafter. I assure you he did not "taste the rainbow." Indeed he would admit his experience was the opposite.
I had aspirations of playing in college. While my high school stats were ridiculously high, I was always talking to the person who kept the books, and I certainly attempted to influence close scoring calls —just like a good lawyer. Numbers mattered to me. Statistics created viable metrics for success and meaning in a game of failure. I still do this today. Regardless of my athletic accolades, I was hardly recruited until Coach Tom Gladney at Mississippi College gave me an opportunity on his club. While I had what I deemed in the moment to be larger athletic ambition with little opportunity, Skittles was going to MC, so I did too.
I was fortunate to get some playing time as a freshman under Gladney –mostly in right field or as the designated hitter. Offense was my strength. I was mostly average in the other fascists of baseball like fielding and throwing. We even played Mississippi State during a mid-week game during my freshman campaign, and I had a pretty good outing, enjoying a couple of hits and getting intentionally walked by Coach Polk in what felt like a key moment before we acquiesced to a round-number win for the One Dawg. We celebrated with a buffet dinner I famously lost on the way home because of a bad pinch of Copenhagen that went amok in my mouth. Thankfully there were unused ice bags on the bus.
I had delusions of being an engineer or an architect or something else, so I announced my intention to transfer.  I called Coach Polk, and while whether he remembered me from State versus MC on a random Tuesday is questionable, he acted welcoming, and even offered me a room in the athletic dorm.  I stayed with a guy from Rhode Island, who did not understand the need to wear socks in Mississippi.  I asked him to keep his shoes outside, and he did.  He did not make Coach Polk's famous typed roster at the end of the 1993 fall workouts, but I somehow did, which means I had the room to myself in the Spring when he transferred back closer to home.
McArthur Hall was wild and a little dangerous. The baseball team lived on the sixth floor above what became a final four basketball team on the fifth, with the football team on the second through fourth. I reconnected with friends from travel ball at State, guys like Power and Rusty. We were all right-handed outfielders, but Power batted lefty, although he played golf from the right side.
Rusty and I were red-shirted our first year at State, but Power was not, probably because he was fast and had a two-step head start to first base. The guys like to play cards in the back of the bus for coins, but Coach would not join the action after constant invitations, saying he only played with hundreds, which sounded unbelievable to this kid from South Jackson. It was rumored he spent time in Vegas each year, staying up for days smoking cigars and playing blackjack. I have no independent knowledge whether that rumor was true, but it sounds consistent to me based on what I know.
Coach used an old typewriter to communicate his plan for training. Everything was scheduled down to five-minute increments. He would film us during batting practice, and we would sit in the dugout with him watching VHS tapes to study our swings. He analyzed our performance, or lack thereof, with the precision of an engineer. He was brutal, matter of fact, and painfully honest, which I needed. He did not play games or manipulate his players, which is a sad reality in modern sports. Coach told you what he thought, in real time as he was thinking it.
I relate.
I left the game for law school, as Coach was transitioning away for the first time too. Pat McMahon took the job after a transitional season or two. Rusty and Mark went on to play in the College World Series in Omaha. Rusty was named team captain, and he led the team back to the CWS. He even hit a home run, which Mike Patrick pointed out was only his third of the year. Rusty has been mad at him ever since. Fans spelled out R U S T Y on their chests in left field –his parents Tom and Lynda looked on with pride. Tom now looks down from heaven with equal enthusiasm as Rusty parents his children.
I only played for Coach for two seasons, but once I settled into adulthood, I would receive birthday, anniversary and Christmas cards from him every year. He did it for all of his former players, but the small gesture is very personal –a hand written note on each. We are his family. I would see Coach from time to time through the years, mostly at baseball reunions. He even commented on my golf swing one time while smoking a cigar standing on the tee box at an alumni tournament —as if maybe he missed something when I was on the team. He always calls me by name. I wrote him a letter when the Dawgs won the CWS in 2021. He rang me on my cell phone and thanked me.
I felt seen.
There is now a statue of the One Dawg outside the gates of the baseball cathedral he built. It stands eight feet tall, which he was very proud to tell me and Rusty after we introduced him to our kids at a recent game. His arms are crossed, which is the way he stood coaching third base. Intensity in his eyes and his cap straight across his brow, he appears to be waiting to confront a misguided official in blue.
The One Dawg is the father of baseball in the Southeastern Conference, but more importantly, he has fathered hundreds of young men who mostly played very little baseball when their time under his shepherding was complete. We all have a hunger to be fathered. God designed it that way. I am grateful to have had a few father figures in my life, and Coach was certainly one of the more notable. They were all flawed humans —just like me.
The One Dawg was married to baseball, and he has remained faithful to his bride for almost sixty years, his players are his children. He is a testament to family being what you make it through loyalty and commitment, a lesson we could all learn from the man in maroon wearing the number one.
Craig Robertson is the founder of Robertson + Easterling. For over 20 years, he has practiced exclusively high net worth divorce and complicated family law in Mississippi. Over the course of his career, he has worked with several professional athletes and their families. You will want him in your corner because he believes every case is his most important, and he knows the things you care about deeply are at stake –family, safety, and security. He is strategic, collaborative, creative and a proud former walk-on baseball player at Mississippi State University.