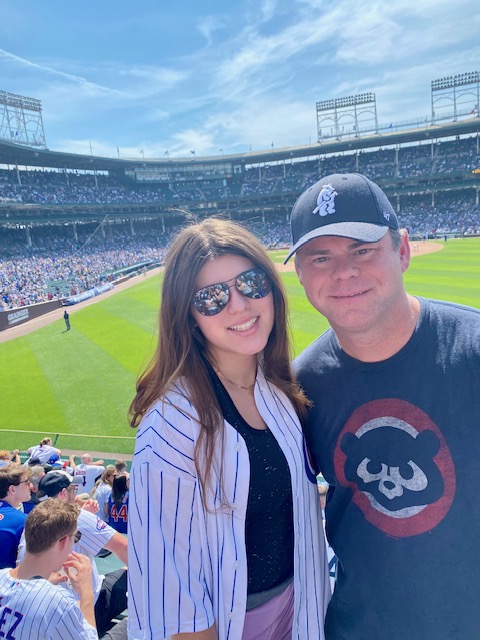 I spent hundreds of hours of my youth at Leavell Woods Park, chasing fireflies and foul balls that could be taken to the concession stand and exchanged for a free snow cone. They also sold Coca-Cola in waxed red paper cups, roasted peanuts and enormous dill pickles. We played a little baseball too, but I was not very good until I got glasses when I was twelve. Being able to see is apparently a condition precedent for hitting or catching a baseball.
At home, we watched Harry Caray's Cubs on Chicago's WGN with players like Ryne Sandberg and Andre Dawson, who sent balls flying over the ivy-covered brick walls and onto Waveland Avenue. We followed the Braves on TBS too. They were pretty good by the time I got to high school, falling one series short in both 1991 and 1992 as they were developing one of the best pitching staffs in the history of the game with names like Steve Avery, Tom Glavine and John Smoltz. They finally got it done in 1995 with the addition of Greg Maddux, among others.
My childhood home sits on the corner of Dianne and Maria in South Jackson. It is a ranch-style dwelling with two small bedrooms and a slightly larger one where Momma and Daddy slept together until they didn't. The original living room, which had a small closet just inside the front door of the house, was converted into a bedroom I used when Keith moved out. I had my statistical goals for each baseball season posted to the back of the door. 
The kitchen was off what used to be the garage which someone converted into a living room. This was a common renovation for homes in the neighborhood. We called it the den. The den had a wood burning fireplace with a hearth made of red bricks. When I was a toddler, I colored in a few of the mortar joints with brightly colored pink crayons. I also used the flat surface as a battlefield for my green army men, a racetrack for Hot Wheels and a stage for my collection of Star Wars action figures. In the yard in front of the adjacent chimney was a large azalea bush, which in the spring exploded with hot pink blooms matching my crayon marks on the other side. In front of Momma's prized azalea is where we took pictures when we were dressed for occasions like Easter, prom, a wedding or opening day of baseball season. I used to pick the flowers off the shrub one by one, swinging my 34 inch, 31 ounce Easton Black Magic bat.
About this time of year, I feel a yearning to visit the ballpark. I remember those long spring days, the smell of fresh cut grass, hamburgers and hotdogs cooking on a charcoal grill and the buzz of those in attendance. At home or out and about, we would hear the sounds of the game on the radio and television. My favorite was Jim Ellis calling for the Mississippi State Bulldogs. As I think about the days in the height of my love for the game as a player, I remember Jim's call of Burke Masters' iconic grand slam at the 1990 Super Regional against Florida State in Starkville. The dawgs were down 7-8 in the top of the 9th inning. I was at Leavell Woods getting ready for practice as this sound came across the car radio of my blue, 1979 Ford Mustang:
Masters at the plate is five for five in this ballgame. Three balls and a strike to Masters. He's going to be sitting on a pitch now. He's going to be looking for a pitch that is in exactly the right spot. And if it's not, he'll let it go by. If Kimball can't throw a strike, this ball game is tied. If Masters gets a base hit, this ball game is at least tied.

The three one pitch… is a drive… deep to left, WAY BACK. IT IS….GONE. IT IS GONE!

A GRAND SLAM FOR MASTERS!!!

A GRAND SLAM FOR MASTERS!!!

THIS CROWD IS BERSERK!

Mississippi State has taken an eleven to eight lead in the top of the ninth. The left fielder never turned around. Ronan never turned around.

He just stood there as the ball went sailing into the left field terrace.
All these years later, even though the bulldogs are not fantastic right now, I get emotional listening to Jim's call, because it was iconic inspiration for me as a young, ambitious athlete. Interestingly, Burke Masters, who was from Joliet, Illinois just outside Chicago, had dreamed of being a professional baseball player as a child. He went on to seminary after he left Mississippi State and is now a Catholic priest. He is also the Chaplain for the Chicago Cubs, getting to shepherd the team as they made their run to the 2016 World Series Championship. 
God has unique ways to fulfill our childhood dreams.
I became a good high school player, but while I was not heavily recruited to play in college, Tom Gladney gave me a spot on his team at Mississippi College. I played a fair amount as a freshman, and because my ambition was bigger than my talent, I left MC to walk on Coach Ron Polk's team at Mississippi State.  Eventually, when baseball rejected me after two seasons at State, I rejected it back. As time went on, my love for the game was rekindled. I have written about this before. My daughters humored me by playing one season of softball when they were in elementary school, and although they are two grades apart, were both on the team I was asked to coach. Emma has never been much for grass, dirt, sweat or the Mississippi heat, so she gravitated to indoor sports like basketball and volleyball. Mollie Ann liked the outside more than E, but dealing with flying objects did not speak to her. She played soccer and some volleyball too, but cheerleading was her primary activity as she got older.
One of my fondest baseball memories, created years after my playing days were done, was when Emma and I took a baseball pilgrimage after her team had a respectable finish at a prestigious volleyball tournament in Kansas City. We started at Kauffman Stadium across town to watch the Royals after getting gear to support the home team —like the song says. The stadium is nice with its right field water feature, but the Monday night crowd was sparse. The next day, we drove over seven hours to Chicago to catch a night game at Wrigley from the grandstands. We got there early to soak up the atmosphere in Father Masters' historic baseball cathedral. Watching the infielders go through drills was like attending a worldclass ballet. Emma sang with the crowd in the middle of the seventh like a local. It was like being in church. The following day we sat in the right field bleachers for a day game, which was a totally different experience. Think Notre Dame frat party. 
After two games in Chicago, we drove south down Interstate 55, leaving the blue and green of Wrigley for the red of the St Louis Cardinals in Busch Stadium. The Gateway Arch makes an appearance in right center. We had great seats, and I snagged a foul ball with my left hand without spilling a drop of the draft Budweiser I was holding in my right. The ball now sits in Emma's room, reminding us of our baseball odyssey and our ever-adapting parental relationship.
On this opening day of baseball season, like spring itself, there is hope of renewal and fresh starts.  Baseball, like life, is a game of failure. Thankfully, if you strike out, there is always another at bat, as long as you stay in the game. For me, on days like today, I think of my momma's azalea bush, Burke's grand slam, Emma singing Harry Caray's song, and the symphony of sensory experiences at ballparks everywhere from Leavell Woods Park to Wrigley Field.
Play Ball!
Craig Robertson is the founder of Robertson + Easterling. For over 20 years, he has practiced exclusively high net worth divorce and complicated family law in Mississippi. Over the course of his career, he has worked with several professional athletes and their families. You will want him in your corner because he believes every case is his most important, and he knows the things you care about deeply are at stake –family, safety, and security. He is strategic, collaborative, creative and a proud former walk-on baseball player at Mississippi State University.